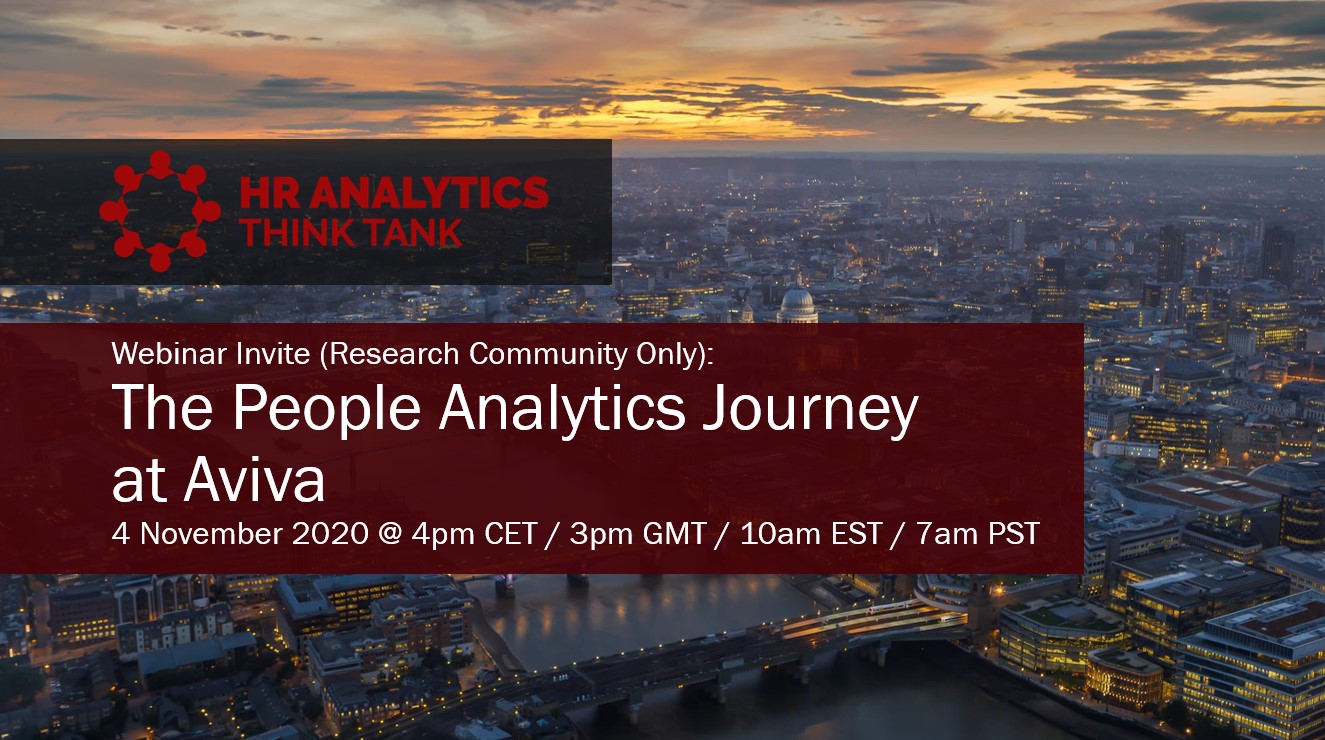 HR Analytics ThinkTank: The aviva people analytics journey
4 November 2020 @ 4pm CET / 3pm GMT / 10am EST / 7am PST
In exchange for taking part in HR Analytics ThinkTank research, and sharing your knowledge and experiences with our research teams, you will join our community and get access to exclusive content and reports - including this webinar.
In this webinar, Angela Ignam, Head of People Analytics at Aviva and Board Advisor to the HR Analytics ThinkTank, will be taking us through their HR data journey.
During the webinar we will hear:
How has Aviva been investing in HR and people analytics?
How HR and people analytics is being used to help HR decision-making at Aviva?
What foundations your function might want to consider investing in?
If you would like to access previous webinars from other HR analytics leaders, the recordings can be
accessed here
.
***********************************

What is the HR Analytics ThinkTank?
The HR Analytics ThinkTank is a private-academic partnership dedicated to researching the practice of HR and People Analytics. It analyses the HR analytics industry, creating evidence and insights so that practitioners can make better decisions about the functions they are building, the value they create for their organisations, and the way they manage their own careers.
www.hranalyticsthinktank.com

The HR Analytics ThinkTank partnership is between 3n Strategy, the University of Leeds and Utah State University.
www.3nstrategy.com
www.leeds.ac.uk
www.usu.edu
A free copy of our extensive eBook guide with tips on how you can increase your productivity by automating your daily tasks.
An exclusive link to our online community so that you can discuss what you learn with a group of like-minded individuals.
An extended free trial of our software so that you can immediately put some of these tips into action.
Access to our online support chat so that you can ask any questions that you may have after reading through the eBook.
Links to all of our open resources so that you can continue to learn after reading through this eBook.
A free calendar browser extension so that you can track your progress as you begin to automate your tasks.